With the original Gorilla being such a popular international phenomena, it was a matter of time before breeders introduce some form of autoflowering Gorilla Glue or other. And today, there's a great number of Gorilla Glue autoflower strains that try to preserve the coveted genetics. Besides, there are quite interesting crosses with other varieties.
So, if you want to raise this famous beast in 10 weeks from seed to harvest, your choice is seemingly unlimited. The question is whether THC levels and yields in these autos can be compared to the real thing. Well, there's hardly any angry Gorilla Glue Auto review online, and reports mostly range from favorable to extatic. Read on to learn about this important addition to the huge Gorilla family.
Gorilla Glue Auto Info: What to Expect
This weed strain, including its automatic form, has been around long enough, so the information is abundant. From a grower's perspective, this marijuana variety is beginner friendly and quite fast.
When to Harvest Gorilla Glue Auto
Harvest time can be as soon as 8-9 weeks from seeds, although 70-75 days is more common. Only some sativa leaning phenos in some specific strains (see in our list below) can take up to 90 days to mature.
Gorilla Glue Auto (Barney's Farm) – Buy
Harvest Time: 70-75 days from seed
GG4 Auto (Lineage Genetics) – Buy
Harvest Time: 63 days from seed
Gorilla Auto (00 Seeds) – Buy
Harvest Time: 70-75 days from seed
Gorilla Glue #4 Auto (BlimBurn Seeds) – Buy
Harvest Time: 70 days from seed
The average height is 3+ feet. Some strains are more compact and bushy, others are of middle height and with a dominating central cola, and finally there are tall and branchy varieties with great yields. Hermie problems are reported, but very seldom. Most of the time, the genetics are stable and strong.
Indoor and Outdoor Grow: What's More Rewarding?
For those of you who still don't know, Gorilla is celebrated for its sticky, resinous buds. It's like glue in a plant form, and to completely use this potential of the strain to produce resin it's best to grow it indoors under powerful lights. Indoor yield is on the high side, especially in DWC and with the use of good nutrients. If you prefer to grow in soil, use pot size of 5 gallons to give plenty of room to the roots.
Outdoors, the root system gets as much soil as it could possibly need, so you can raise bigger and more productive plants, although buds may be not so solid and less resinous than indoors, stil with better production of the 'sticky icky' than most other cannabis strains, including photoperiod varieties. So expect great results outside, even if you decide to grow guerilla style.
Gorilla Glue Auto (Barney's Farm) – Buy
Indoor Yield: 600 g/m2
Outdoor Yield: 800 g/m2
GG4 Auto (Lineage Genetics) – Buy
Indoor Yield: 400-600 g/m2
Outdoor Yield: 50-250 g/plant
Gorilla Auto (00 Seeds) – Buy
Indoor Yield: 500-600 g/m2
Outdoor Yield: 150 g/plant
Gorilla Glue #4 Auto (BlimBurn Seeds) – Buy
Indoor Yield: 400-600 g/m2
Outdoor Yield: 50-300 g/plant
Can I Do Topping on Autoflowering Gorilla? What About LST?
If you want to use advanced techniques to see the strain's full potential, you can LST it to make the plants more branchy. It not only gives you more bud sites, but also keeps them at a more or less equal distance from the light, and they all turn out of the same size and quality. As for topping, it's never recommended for autoflowers, and Gorilla is no exception. Some varieties (see our list) tend to produce single-cola phenos and are better suited for SOG setups, meaning that you place a greater number of plants in the same space and use smaller pot sizes, around a gallon per plant.
Gorilla Glue Auto: Sativa or Indica in Terms of Effect?
The main effect that Gorillas and their many hybrids produce is euphoria. You just feel great, like on top of the world, with feelings of well-being and happiness in your body and mind. And it's up to the specific genetic profile of a strain to determine whether the effects will lean more to indica or sativa. In one case, you'll feel more relaxed and will prefer to spend a cozy evening on the couch. In the other, you'll be inclined to do something.
In any case, the high is mentally stimulating, and, whether you move about or sit still, prepare to be talkative and creative. The effect is never trippy, though, which is a good thing if you want to keep your head clear in case of emergencies.
Gorilla Glue Auto Strain's THC and Flavor
THC content is short of amazing, even at the standards of today's market. It's clearly the case of great breeding work. The auto version is practically the same as the photoperiod one, but faster.
Most varieties have 20+ percent THC, with 18 being the absolute minimum (and even that is 'deadly' for newbies) and the whopping 27% quite achievable, too.
The terpene profile is just as amazing. Look forward to the same complex aroma and flavor as those that the photoperiod ancestor is famous for. The smoke is top-notch in terms of smell and taste. However, it can be a bit harsh on the lungs due to Gorilla Auto's sheer psychoactive power.
Several Awesome Gorillas to Choose From
And now it's time to meet some of the best representatives of these genetics. You can order and buy any of the seeds below from anywhere in the world, including the UK. The seed shop that we use ourselves and recommend you hides the seeds inside other merchandise. So you won't have problems with customs even if the package is shipped internationally.
Royal Gorilla Auto: Harvest the Most Resinous Buds Ever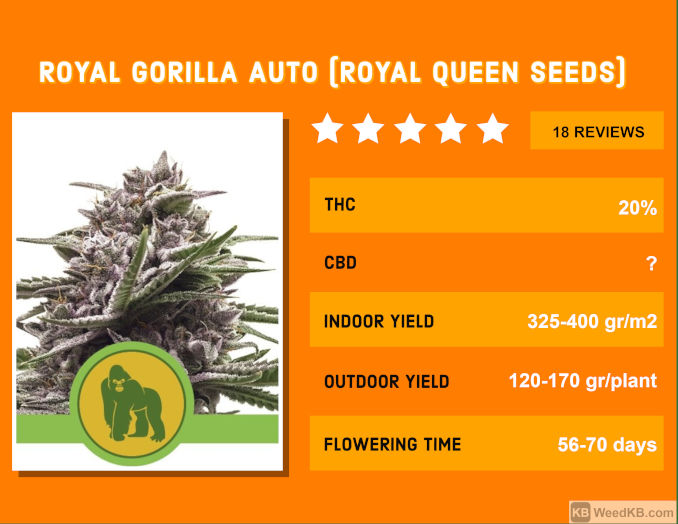 The feminised Gorilla Auto by Royal Queen Seeds produces large and high-yielding plants with plump and solid buds completely covered by 'glue'. Indoor yield can reach 400 g/m2, and outdoors this RQS version has even greater potential (up to 170 grams per plant). Thanks to the Cookies genetics added to the Gorilla base, this strain leans on the indica side with a heavy-handed punch that sends you straight to the couch. Surprisingly, you get a lot of mental stimulation at the same time. The flavor is rich and complex: it's dominated by the taste of kush and diesel, with fruity and piney undercurrent.
Gorilla Glue Auto Expert Seeds: Probably Your Best Choice
Expert Gorilla Auto is based on the most popular #4 pheno, and so you should probably start your acquaintance with this lineage with the Expert Seeds version. It's a bit faster than other Gorilla autos, at least if you get an indica phenotype. Sativa phenos can take several weeks longer. All have a very strong and penetrating smell of fruit, cat piss, and fuel during grow, and look amazing because of the most generous trichome coverage. You can LST this plant because otherwise it can grow just one big cola with very small side shoots. Reviews describe the effects as happy and relaxed. However, the couch lock/energy balance depends on the predominance of sativa or indica genes.
Gorilla Zkittlez Auto Feminized Seeds: An Indica with a Sativa-Like Euphoria
All reviews point to this strain being really uplifting despite 75% of indica in its genetic makeup. Round and compact kush buds smell of sweet fruit, are extremely resinous, and have around 20% THC. Doesn't seem like much nowadays, but Barney's Farm are very down-to-earth with their claims on THC levels. So their 20% are in fact amazing. If grown in pots, use at least 5 gallons because this strain develops extensive root structure and easily reaches around 3 feet (and up to 4 feet outdoors). The yields will be above average.
Gorilla Girl Auto XL: Zesty Sativa Energy
Gorilla Girl XL Auto by Sweet Seeds has a mostly sativa genetic makeup and produces powerful invigorating effects that make you active and ready to tackle any task. Also perfect for social settings and outdoor leisure activities. The plants show some variance in height, but, irrespective of the size, bring in XXL yields. This will be great for both heavy smokers and enterprising cash-croppers alike. The THC content depends on the pheno, but is always in the respectable range of 18-25%. And, as is always the case with Sweet Seeds, the taste and smell are top-notch. You'll fall in love with this strain's sweet and fruity flavor, enriched by some woody and lemon influences.
Gorilla Cookies Auto: Fastbuds Have Balanced the Best From Both Parents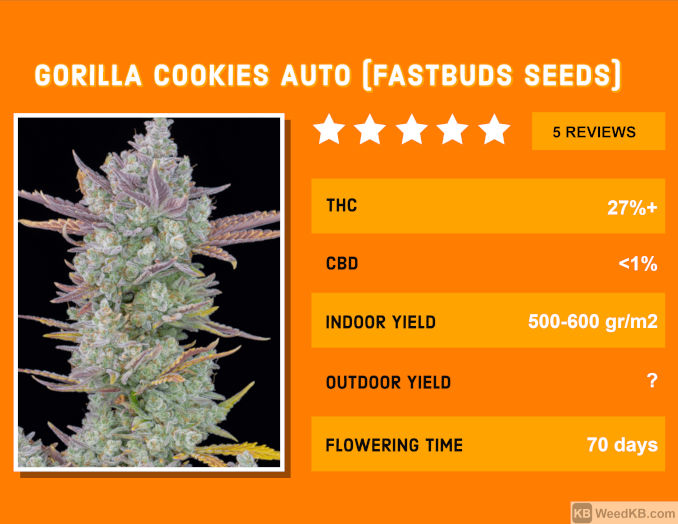 In this feminised hybrid, the breeders have added Girl Scout Cookies genetics, but this fact hasn't made the plant less gluey. In fact, the buds have such a thick layer of trichomes that they seem almost white and obscure the color of calyxes and leaves which can be golden and sometimes purple. As a result, Gorilla Cookies Auto seems probably the most gorgeous in our little list. It's squat and branchy and extremely high yielding. THC level can reach the jaw-dropping 27% mark. This means extreme euphoria that deeply relaxes your body while stimulating your mind. The smell of sweet cookies and candy and the taste of earth inherited from one parent are supplemented by influences of the other: kush, citrus, and diesel. You can't go wrong with these seeds. It's a total bomb.
Gorilla Glue 4 Auto Fastbuds: Good Reviews Fully Deserved
This Gorilla Glue Auto is based on arguably the best of the pack – the number 4 which was injected with ruderalis genetics to make it flower automatically and finish in as little as 8-9 weeks from seeds. No wonder this version by Fastbuds is the most sought-after. The plants are robust and vigorous, if only a bit slow in veg. The buds are dense and very frosty. They'll smell of fruit, with some pungent notes of diesel, and relax you, filling your whole being with euphoria. 24% of THC ensure that the effect lasts long and the tolerance is slow to build up.
Auto Gorilla (00 Seeds): Giggly, Social, and Talkative Experience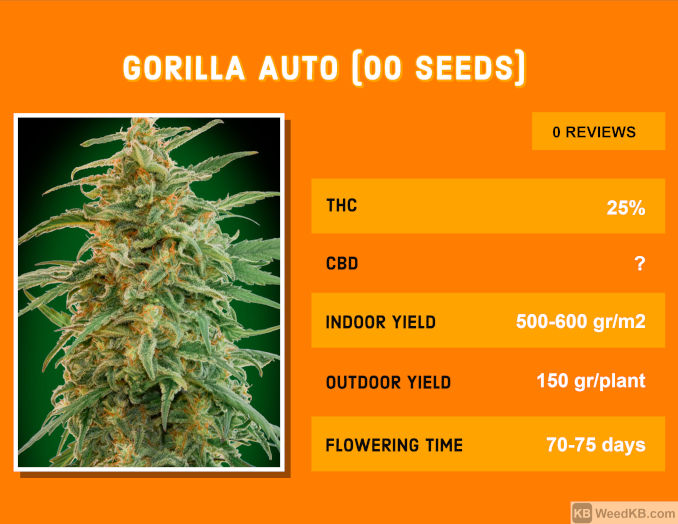 This Gorilla Autoflower is a fast flowering (70-75 days), big and generous variant. In exterior setups, its roots benefit from abundant soil, and so the plant reaches up to 5 feet in height with correspondingly high yields. The signature huge amount of resin makes this variety ideal for extracts and hash production. The taste of earth and the smell of lime and pine make the smoke very enjoyable. The uplifting effects fueled by 25% of THC in some phenos are ideal for chilling with friends. You'll be relaxed and talkative at the same time, full of new bright ideas, and ready to laugh out of sheer happiness.
Want to See What Gorilla Genetics are All About? Give Autos a Try
Autoflowering Gorilla won't disappoint you. It's the same legendary strain quality-wise, only faster, somewhat smaller in size, and, as a result, not always as high-yielding as its photoperiod parent. But with a shorter growing time, you save several weeks of waiting, and this counts for something, too. And if you already are acquainted with the pure Gorilla genetics, there are many hybrids at your disposal. And they are probably just as great.