We have our own share of personal experience with XXL autoflower strains, but, for this post, we have combed through Growdiaries for some champion autoflower grows. Let's start the countdown!
XXL Autoflower Strains Ranked by Real-Life Yield
#10 Green Poison XL Auto (Sweet Seeds)
This is a balanced indica-sativa hybrid with 15 to 20 percent THC, a pleasant sweet and fruity smoke, and a mellow easy-going high. The breeder has selectively bred this strain for several generations making sure that all plants have about 25% longer stems than their predecessors. As a result, Green Poison XL Auto has more bud sites and heavier yields.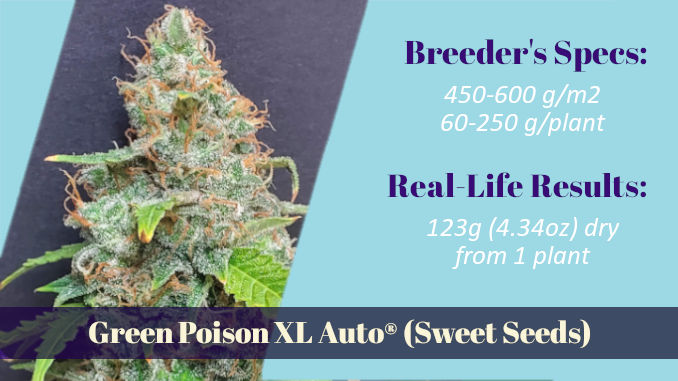 Grow another round of these stanky ass weeds,
Sweet Seeds comin with that fire on these!
not another xl out there stackin such cheese, show it to your growmies gonna take em to their knees
Jigga please, these seeds grow trees
Tallest in the garden, other autos like "jeez"
"She a beast, blocking all my breeze she is. Look at all her shiny crystals, cola in my shiz it is"
#9 Royal Gorilla Automatic (Royal Queen Seeds)
A taller, wider, and more productive strain when grown outdoors, Royal Gorilla Auto is leaning to the indica side. Its highly resinous buds have a bold taste of Diesel and Kush and smell of pine and citrus fruit. Thanks to 20% THC, this hybrid is amazingly potent. Its alround euphoric high makes you both glued to the couch and very stimulated mentally.
Make sure to check out other XXL autoflower strains in the large and glorious Gorilla family.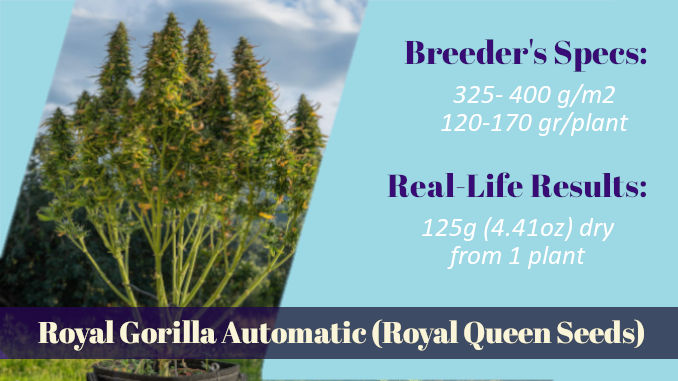 The Royal Gorilla Auto is quick, she finished on time and came in at 682 grams wet weight which is good for an autoflower in a pot that size running soil.
#8 Northern Light Automatic (Royal Queen Seeds)
Northern Light Auto is an old-school indica lineage that is available practically in any seed bank's collection. This xxl autoflower version by RQS produces compact plants with a huge central cola and much smaller side branches. Perfect for SOG. You'll get tons of buds that have a pleasant sweet smell and relax you without making your body immobile, nor killing your motivation to do your chores. A nice physically calming and mentally envigorating stuff to smoke from late afternoon till it's time for bed.
What a blast I had doing my first grow ever and getting this result!
#7 Zkittlez Auto (FastBuds)
This candy-flavored treat is celebrated for its intense sweetness. Its berry and fruity overtones become overwhelming after a proper cure. The THC level of 23% is something to awe even seasoned smokers, and newbies can give up growing for good after just one harvest. The buds are simply so potent that they may last you for years. The effect of Zkittlez Auto is a hybrid one. It starts all in the head and then settles in your body for long three hours or mellow relaxation.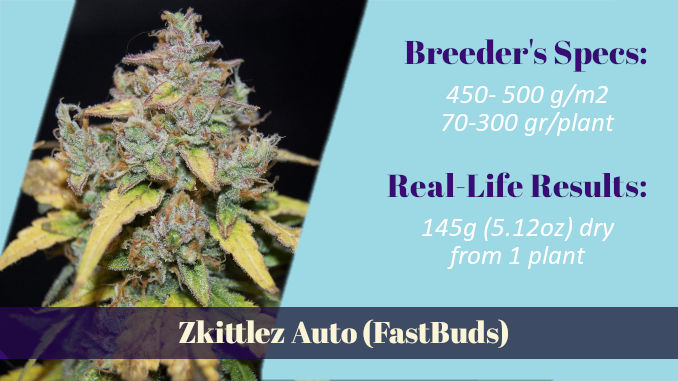 She came on thick and fast from germination and stayed that way through to Harvest… Had a good experience keeping her wet and pushing the her nutrient levels.
#6 Auto Blueberry Ghost OG (Original Sensible Seeds)
The Blueberry line isn't exactly famous for its xxl yields, but this hybrid of Blueberry and Ghost OG seems to be an exception. Auto Blueberry Ghost OG produces oversized and heavy buds with a strong and clean flavor of berries and fruits. The high first overwhelms you with a surge of euphoria and then morphs into a loud body buzz—like a roaring applause for the great job on the part of the breeder.
This is a moneymaker, 180 g in 13 weeks is a great outcome.
#5 Girl Scout Cookies (FastBuds)
Girl Scout Cookies is the flagship of the new-generation cannabis coming from the US West Coast. This autoflowering version by FastBuds gives you a chance to grow the same quality buds as the patrons of California's dispensaries enjoy. The aroma is one-of-a-kind. It combines the smell of coookie dow with a background of Kush and earth. The high envigorates you mentally, but makes your body immobile for hours. Doesn't matter because you don't have to be anywhere else to feel completely happy.
This is my second time growing a Girl Scout Cookies autoflower! … She grew with vigor, and yielded a sticky bounty!
#4 Big Bang Auto (Green House Seeds)
Big Bang Auto was bred for commercial yields, but also to be commercially appealing. With a frosty appearence like this and large solid flower clusters it can't be anything but. The smoke is also very pleasant: mellow, soothing, and very effective medicinally. You can use this weed for pain and lack of appetite.
… never grew anything in my life before and i gotta say im happy with my results… they were easy, took my countless mistakes of overwatering like a champ, and responded really well to LST and defoliation. ive never trained a plant before so u can imagine but she just loved all the trainings and always fully recovered only after a day later. overall, a very tolerating strain. PERFECT for newbies who are bound to make a mistake or 2. Exceptionally high yielding for an Auto…
#3 Pineapple Express Auto (Barney's Farm)
Pineapple Express Auto is an undying classic. This particular version by Barney's Farm has so much more than the champion yield to recommend it. You'll fall in love with the mouth-watering juicy flavor of this marijuana, as well as its high that melts away any stress and drowns you in perfect happiness.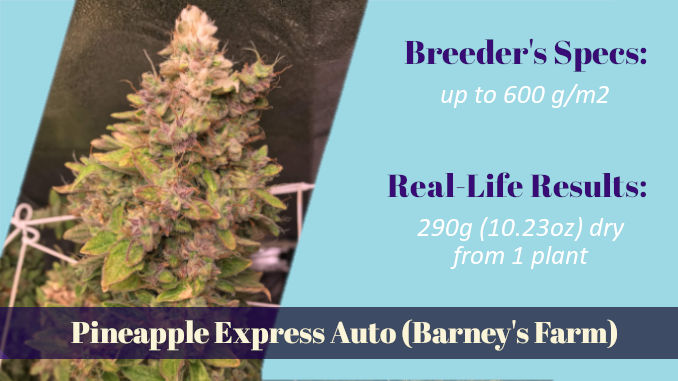 Very easy and strong one, would recommend for beginers and for experienced growers if they look for a plant you can't kill, I've tried 😉 … Not always good conditions but good light, fertilizers and a lot of air for the roots did their jobs good, still I am very amazed by capabilities of this strain
#2 Pineapple Express (FastBuds)
There are newer and trendier xxl autoflower strains in FastBuds collection, but people still go bonkers when they see Pineapple Express Auto. These plants are so frosty, you'll end up smoking stem and branches, too. Or at least rub them till all the resin that covers them sticks to your fingers. Been there, done that. With so much THC, the effect is strong and long lasting, intensely relaxing and free of paranoia. The flavor is a rich tropical mix.
She was a "slow and steady wins the race" phenotype! 6 weeks veg + 8 week flower…. This lady holds my personal record, for my largest yield from an indoor plant!!!
#1 Among XXL Autoflower Strains — Purple Lemonade (FastBuds)
This plant embodies everything you look for in a modern xxl autoflower. It's gigantic, insanely productive, and tolerant of any abuse that a newbie grower can throw at it. The finished product is picture perfect, has a bittersweet zesty taste, and creates a unique high. Despite its indica dominance and 22% THC, Purple Lemonade does not create a stony, groggy, drowsy feeling. If anything, it rather boosts your energy, leaving you motivated and creative.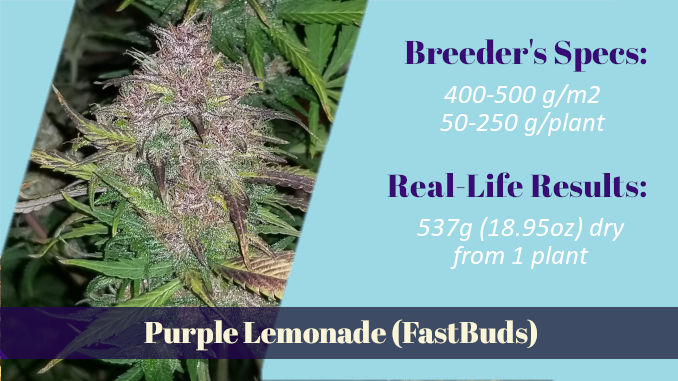 Make sure u have room for this variety! Absolutely monstrous! The more u train the bigger and more fruitful she gets… so get that finger work going! Every cola was a donkey dick glorious!
Autoflower XXL Yield Champions
XXL Autoflower Strains
BRD
Medium
Yield Per Plant
Green Poison XL Auto
SS
Soil
123g
Royal Gorilla Automatic
RQS
Soil
125g
Northern Light Automatic
RQS
Soil
139g
Zkittlez Auto
FB
Soil
145g
Auto Blueberry Ghost OG
OSS
Soil
180g
Girl Scout Cookies
FB
Soil
182g
Big Bang Auto
GHS
Soil
200g
Pineapple Express Auto
BF
DWC
290g
Pineapple Express
FB
Soil
326g
Purple Lemonade
FB
DWC
537g
The one below didn't quite make the cut yield-wise, but we simply couldn't pass on such a beauty!
Original Auto Northern Lights (FastBuds): An XXL Autoflower Strain All the Way
Actually, 330g (11.64oz) from two plants is a great result, especially in a 24"x24" (0.5m2) tent.
The huge colas of Original Auto Northern Lights are completely frosted by THC crystals and taste like rich soil with hints of spices and fruit. Smoke them after a long day, and your body will get filled with heavy-handed drowsy euphoria. This is the perfect remedy for nighttime relaxation.
More XXL Autoflower Strains
The 11 strains we described above have demonstrated their ability to bring insane amounts of bud. Choose any of them, and you're on your way to outsized harvests.
And if you want something else (different names, flavors, genetics, etc.), check out this list of high yielders. We have pre-filtered them for autoflower xxl yield, but you can filter them further until you hit on something that perfectly suits your needs.